Summer Touch is back for another fun year! Be sure to get your team registered asap as spaces and teams are limited.
DATES FOR THE DIARY
Tuesday 15th August – Registrations open – https://forms.gle/WNsdKiWqC2RDixvA9
Managers register teams and pay team fee.
No individual registrations.
No late payments will be accepted.
No registration, no play.
Tuesday 15th August – Referee Call Out
For those wishing to referee again or learn how to referee in a fun, safe environment please fill in this form – Referees Details 2023
Friday 1st September – Registrations close (unless sold out prior) – 8 teams per year group
Sunday 17th September @ 4:00–5:00pm – Referee Info Session at the Whalehouse
Sunday 17th September @ 5:15pm–6:00pm – Coaches & Managers Info Session at the Whalehouse
Tuesday 10th October – 8 Week Competition Begins
Thursday 30th November – Fun Finals Week
FINER DETAILS
Location: Rawson Oval, Mosman.
Fee: $100 per player
Game Duration: 2 x halves 13 mins each way with a 2 min half time break. (2 min changeover.)
Teams
We play 7 a side touch with 7 on the field at any one time.
We recommend having a reserve but no more than 10 players so everyone has enough time to have fun.
Each team needs an allocated Manager (and a coach for Year 5 and under is HIGHLY suggested)
You can register:
A GIRLS team
A BOYS team
A MIXED team
A FAMILY team – Can be made up of Dad & Daughter, Dad & Son, Mother & Son, Mother & Daughter – of ANY age! Grab 4 other families and come and have some fun.
Individual Players
If you are an individual without a team we'd love to help you out (if we can) please email us directly at summertouch@mjrc.com.au
Season Dates
Tuesday 10th October – Start
Thursday 30th November – Finish
Days of Play
TUESDAY (4:30- 7pm) – Year 3, Year 5, Year 7
WEDNESDAY (5pm – 7pm) – Kindy, Year 1, Year 2, Year 4, Year 9
THURSDAY (4:30 – 7pm) – Year 6, Year 8, Family Competition
Playing Colours
All registered teams will be allocated a colour upon registration to wear as your t-shirt (K-mart and Big W do very cheap t-shirts).
To secure your team you need a TEAM MANAGER
The Team Manager will be responsible for registering their team and ensuring payment. They will also be our point of communication for the season and will be given our contact details. They will also be responsible for managing fair substitutions throughout the game if necessary and keeping score each game.
What Managers will need to do to register teams:
Fill in the registration form and pay via the try booking link for your team ASAP to secure your team's spot in the competition – https://forms.gle/cLTFhBcgi9AGteD48
You will need to fill in each individual players following information at the time of registration:
Name of player
School of player
Email of player's guardian
Then the Manager will need to deposit the entire team's registration payment into Try Booking to secure their spot in their division.
Please note you will have 48hrs to pay your team's full amount in one deposit, otherwise we will open your spot in the competition to other teams.
YOU CAN NOT PAY INDIVIDUALLY.
Footballs
Game balls will be supplied on the night and handed back to the referee at conclusion of the game. Please provide your own warm up ball.
Forfeits
If your team needs to forfeit, an email will be required by 10am on the day or earlier to summertouch@mjrc.com.au
Wet Weather
Please "like" the Mosman Junior Rugby Instagram page for up-to-date information and an email will be sent to Managers if time permits.
Council will update the ground status around 2pm and we will advise shortly after on social media and emails to Managers. There will be no make-up games unfortunately – so do your sun dances please.
Referees
Is your child looking for pocket money? Well we're looking for refs! Please have them fill out this form – Referees Application Details 2023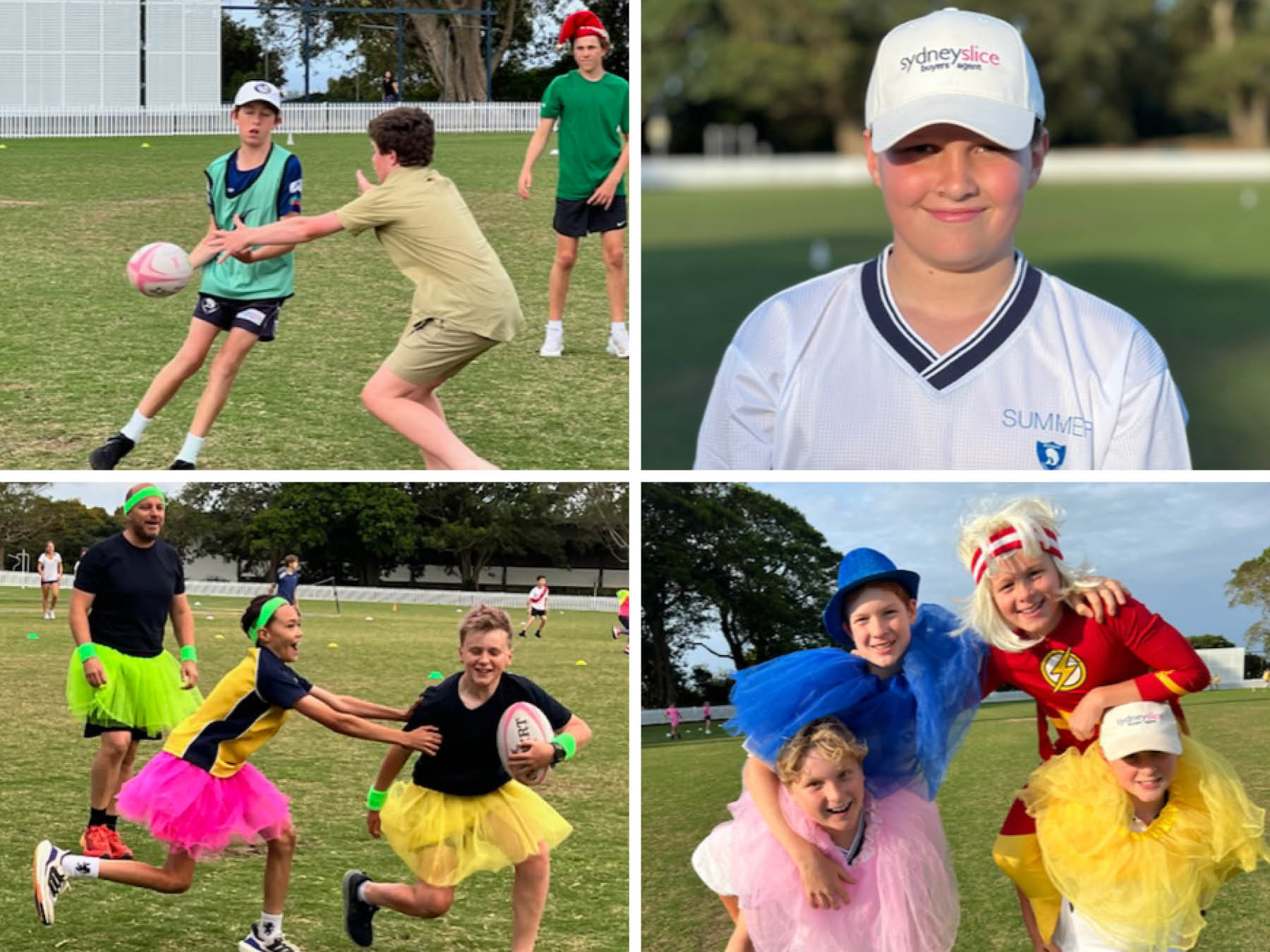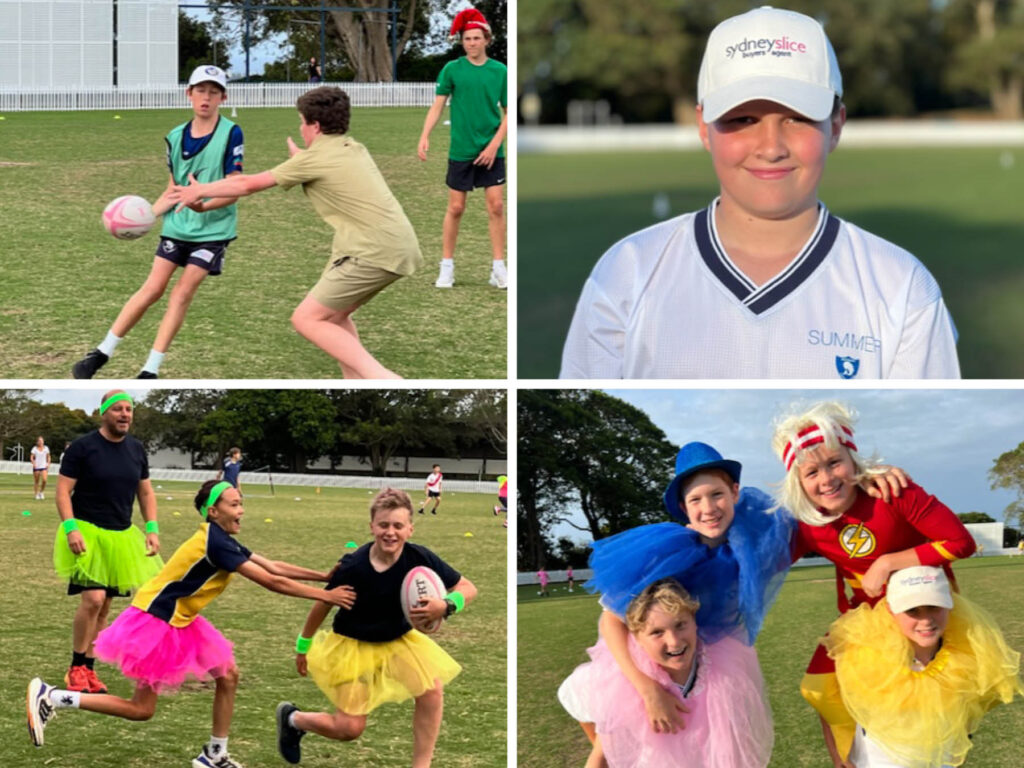 FAQs
Is registration by age? Ie: U7's?
No – registration is by school year group only.
Can my child play in a different year group?
It is recommended that players are enrolled in their school Year. Playing down a year group is not permitted, playing up (one year only) is permitted.
Do the teams have to be single sex or mixed?
Teams can be made up of all boys, all girls or mixed.
No minimum ratios required. ie: can be all one sex, can be 7 boys, 1 girl etc. It is at the Managers discretion.
Teams will all play in their designated school year group.
My child doesn't have a team, can I still register them?
Registrations must be team based. However we want to include everyone so if you are an individual without a team, email us at at summertouch@mjrc.com.au and we'll make every effort to put you in touch with teams looking for players.
Player Name
School Name
School Year
My team is short on players?
If you form a team and are short of players, please email us with your team name and requirements. MJRC will make every effort to put you in touch with individuals looking for a team, but takes no responsibility to finalise teams.
What does my child wear to play?
Any comfortable active wear and trainers (no football boots allowed). Your team will allocate a colour once registrations have closed. We suggest purchasing team tees from somewhere like K-Mart or Big W.
Headgear and mouthguard are not required.
All children must bring their own drink bottle.
Do you need to know how to play?
There is no grading, and we welcome all abilities.
Do we need a Team Manager?
Yes, teams will not be able to be registered without a Team Manager. All teams are to be formed and the team fees to be paid by the team manager.
The Team Manager will be our sole point of contact for all comms and information.
Team substitutions on game day are to be managed by the team manager.
When will the draw be sent to us?
We will aim to get the draw out to all teams by Sunday 17th October at the Manager's Meeting, so you know exactly when you're playing and who!
Will there be a food offering available on Touch nights?
Yes, we will lighten the dinner load on Touch nights. The BBQ at Rawson will be back, and the canteen will be pumping. So have the night off!
Fine Print (the stuff you are meant to read…)
Only Team payments of $700+ who have all registered will be accepted into the draw.
Teams that do not have a minimum of 7 players registered within the 48hrs will be de-registered.
Non-registered players are not covered by insurance and therefore cannot play.
No refunds on registrations.
MJRC are unable to form or manage teams.
MJRC makes no guarantees that there will be teams looking for players, or individuals looking for teams.
Who can I contact if I have any questions?
The Summer Touch team at summertouch@mjrc.com.au
RULES & EXPECTATIONS OF SUMMER TOUCH
SPIRIT OF THE GAME
Fun and Fair Play at ALL times.
Parents, Coaches & Players are expected to uphold a code of conduct (see below).
If the spirit of the game is not being upheld the MJRC Supervisors will ask you to leave the field.
TEAMS
Each team is allowed 7 players on the playing field during a game.
TEAM CAPTAINS
Each team is to nominate a Captain prior to the start of play. The Captain is responsible for the conduct of the team. Captains can (and in our opinion) should change each week.
DURATION
Games are 30 minutes 2×13 minute halves with a 2-minute half-time break. The extra 2 minutes are to allow for players to take and leave the field prior to and following their game.
If a game starts late, the game time may be adjusted, with each half being a minimum of 10 minutes.
THE DRAW
The entire season schedule (draw) will be posted online at MJRC prior to Round 1 commencing.
Game times generally cannot be changed after the season has started. So if you have school camps please advise asap.
WARM UP
Please ensure your team arrives a few minutes before your game warm up and stretches to avoid injuries.
PLAYING SHOES
MJRC Summer Touch is intended as a fun, social competition conducted in the spirit of Fun & Fair Play. We have a Permitted Footwear Policy which is designed to provide;
The lowest risk for injury to all players
A level playing field for all participants
Conform to the requirements of venue looking to reduce wear on fields
All participants MUST wear enclosed footwear.
Metal and screw in studded boots are prohibited.
JEWELLERY / SUNGLASSES
Please ensure all watches, jewellery, and sunglasses (unless prescription) are removed before the game begins. Please do not give jewellery to your referee to mind, we have Supervisors at the grounds who will take care of such belongings if requested.
Your nails should also be cut to the height of the fingertips, and players with long nails may be requested to wear gloves or tape these for their safety and the safety of other players.
MJRC SUMMER TOUCH
MJRC encourages participants to play to the best of their ability as well as exhibit good sportsmanship and fair play at all times.
At the conclusion of each game, the Managers will nominate a player in their team who they believe has exhibited this behaviour the most. This person is the "Player of the Week" and receives a Charlie's voucher.
The referee will select a "Player of the Game" from all the teams. This person will receive a Buena voucher from the referee.
SUBSTITUTION
Players may substitute at any time during the game as often as they wish as long as this does not cause a break in play.
Players being substituted must leave the field prior to their replacement entering the field.
INJURIES / BLOOD RULE
A player that receives an injury that results in any blood must leave the field of play and a normal substitute is used. The player may not return to the field until the blood is cleaned up, and the wound is covered. For serious injuries received during play, the game may be stopped to assess and provide aid to the injured party. If the player needs to leave the field, a normal substitute is used. If a valid substitute is not available, the team must continue to play minus a player.
LATE ARRIVAL
To keep the games on time, teams arriving late will be punished; accordingly, on the second minute the offending team is running late, the opposition receives 1 point. In the fourth minute, the opposition receives another point. At the 5th minute, the game is deemed a forfeit win with a score-line of 5-0 in favour of the non-forfeiting team. If both teams are running late, both teams will be penalised. (Eg, if team 1 shows up two minutes late, and team 2 shows up 4 minutes late, the game will start 2-1 in favour of team 1). If after 5 minutes neither team has shown, the game is deemed a forfeit draw.
SO please don't be late.
RING-INS
You may use Ring-Ins only where they are a registered player and play in the same year group or BELOW.
FORFEITS
If you have to forfeit a game, please contact us on 0411488483 before 10am on the day of play. An email to summertouch@mjrc.com.au before the day of play is also acceptable. If you forfeit twice without giving us such notice or three times with notice, your team will be withdrawn from the competition with no refund and your place will be made a bye for the remaining rounds of the draw.
There is no exception to this rule and we encourage all teams to make every effort to play at your scheduled time slot every week.
POINTS / COMPETITION TABLE
This is a fun, mixed comp but there is always a winner. So the referees will be keeping score and there will be a finals week.
FINALS SERIES
More details to come.
WASHOUTS
Please "like" the Mosman Junior Rugby Instagram page for up-to-date information and an email will be sent to Managers if time permits.
Council will update the ground status around 2pm and we will advise shortly after on social media and emails to Managers.
There will be no make-up games unfortunately – so do your sun dances please.
SIN BIN (We HOPE this isn't used)
Due to the social nature of the competition, the referee or the supervisor has the option to SIN BIN a player to allow them time to cool off. The player can be requested off the field for up to 5 minutes depending on the severity of the incident. Sin Binned players can be replaced and the player can return to the field after they have served their time.
SENT OFF
A player can be sent off the field if the referee or supervisor witness the player committing dangerous or violent conduct, serious foul play (eg. spitting, punching, striking) or using foul or abusive language.
Such behaviour is not tolerated in any form, and a player that is sent off CANNOT return to the field and CANNOT be substituted.
Depending on the severity of the incident, a sent off player may face additional disciplinary action if the referee or Supervisor deems it appropriate. This may include but not limited to suspending the player from participating in MJRC Summer Touch competitions for a period of time.
TEAM PROTOCOLS
PRIOR TO THE GAMES KICKING-OFF
Coaches to introduce themselves to their opposition and the match referee
Players to line-up on the field and elbow bump their opposition
Ensure that arrival on the field is prior to games scheduled kick-off
AT THE END OF THE GAME
Teams to elbow bump each other with both captains to also shake the match referees hand
Teams to give three cheers to the opposition
The whole playing group to give three cheers to the match referee
Each coach to shake hands with the opposition coach and match referee
CODE OF CONDUCT
By representing yourself in an honest manner, you will endeavour to uphold the following to the best of your ability:
Be a good sport – applauding good play by all participants and respecting the decisions of Match Officials and coaches.
Support all efforts to remove verbal and physical abuse from the game, including the use of foul language.
Accept that everyone makes mistakes. Do not ridicule or yell at players, coaches or referees for perceived mistakes.
Respect and comply with directions given by the Ground Supervisor, who is there to ensure a safe and enjoyable experience is had by all.
COMPETITION RULES
RULES OF PLAY
Rules of play are based on standard rules as referenced by their governing body unless otherwise stated but are modified to suit the social nature of the competition, the time available and the facilities used. MJRC Summer Touch retains the right to make determinations on issues that fall outside of documented rules and is the final authority in all interpretations and decisions.
Organisers of MJRC Summer Touch have given referees permission to make the games "fair" if a whitewash is occurring. The referee will check in with both Managers prior to doing so but we appreciate your support in ensuring everyone has a"fun"game.
GENERAL
The defence must move back seven metres after each touch otherwise a penalty will be awarded (tap n run ball).
If the dummy half is touched with the ball in possession, it is a change of possession (Step over the ball).
A dummy half cannot score a try.
A changeover also occurs when the ball has been dropped.
PENALTIES
The following actions are penalised –
Passing the ball forward
Defensive team being inside the seven metres (and not making an effort to retire), when the attacking player rolls the ball.
Defensive team not retiring the ten metres after a penalty has been given
Not returning the ball to the mark or not handing the ball to the closest opponent when there is a change of possession
A defender failing to touch (but claiming a touch), Yes/No call
Obstruction
Disregarding the players code of behaviour
TOUCH
A touch can be made to any part of the body, hair, clothing, or ball of the attacking player.
But as it's a mixed comp we ask that you are "respectful" of where you tap.
TAP
When a tap is called to commence or recommence play, the player must place the ball on the ground, release it and tap the ball gently with the foot. A tap occurs at the start of the game, at the restart of half-time, after a penalty or after a touchdown has been scored.
CHANGEOVER
Changeover of possession (to the opposition team) may be called for the following infringements;
Team in possession has dropped the ball
Team in possession has used up its allocated six touches
Dummy half is touched with the ball in possession.
ROLLBALL
The ball should be rolled between the legs when a player in possession has been touched. It must not go one metre. It does not have to be played with the feet. The ball must be rolled on the spot where the touch occurred otherwise "off the mark" will be ruled and it will be a turnover. If the ball is rolled without a touch occurring, it is a changeover. A player in possession can touch a defender and then roll the ball while play is advancing.
SCORING
You may score a try from anywhere on the field.
A dummy half cannot score a try.
The ball must be placed successfully on the ground on or over the try line.
The ball may NOT be passed after the try line. The reason is on most fields we play across the field and there is no Dead Ball line or in goal area marked.
One point is awarded for a male try and two points are awarded for a female try (remember the ball must be passed to the female player before crossing the try line to be awarded and carry 2 points).